GOLDEN TEMPLE

Riding high on the limpid waves

Rising high on the shimmering presence

Blue waters of white marbled chequers

For the eternal hymns of wayward heart

The golden domes invoking a saffron path.

Novices of thoughts and sunshine abiding

The golden swarms of vibratory atoms

The hush of pilgrims on the circular pitch

Tearing apart structures of egoed ditch.

Give vent to destinations of beauty & liberty

The concerns of soul now past its restrictions

Illuminate a glance bereft of the inner tumult

Saluting the Guruís presence in a silent rebirth.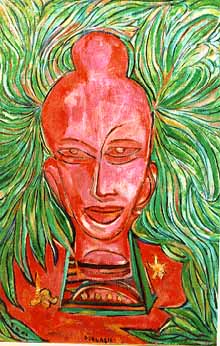 Still Life With Plants (D. Singh)

____________________________________________

TOUCHING AGAIN

Having touched that skies were gold

Having touched that wanton winds carried knives

Having touched that wandering eyes were sweet

And having touched the bitter taste of each smile.

Having touched the brindled blossoms

That speared the wings of each firefly

Having touched the gateways leading nowhere

And having touched vicarious verse which defies.

Having touched the meadowy slips of dew

Having touched the chaste hungers of bereft

Having touched the springs that kept murmuring

In adoration of cool waters of the mountain clefts.