<<< Cinquains # 1-6 (Global Cinquain)
.
Cinquain #7
BASTET
A feline cat
Purred in ancient Egypt
Symbolizing fertility
and joy
Cinquain #8
Purple
Flowers hanging
From jacaranda trees
Soak up smoke from fragrant quail grills
Roasting
Cinquain #9
Keas
Mountain parrots
Natives of New Zealand
Endangered species three thousand
Talk less
Cinquain #10
Two men
Sit on benches
Playing dominoes with
Apple-cured 'bacco water pipes
Puffing
Cinquain #11
Billies
Angora goats
Hanging out to dry
Smells like decline in business not
Mohair
Cinquain #12
Tulips
Quilting its bulbs
Across Holland like a
Living patchwork carpeting art
For miles
.
Take a trip to see Africa's
fiery red sky
The Mediterranean Sea
in blue
Morocco's Marrakech
between red and pink
Ireland's landscapes
in green
Holland's
rainbow of tulips
On a black and white
Zebra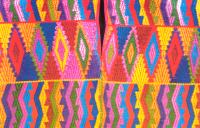 A DRESS CODE SOMEWHERE IN MOROCCO
Wind's intoxicating power
Blowing a spirit of mystery
Through the town
Turning locals into
Ghostlike figures
Men wrapped in striped burnooses
Women in their haiks
This age-old costume
Loomed of uncut threads
Folded several times
Into a distinctive sophistication
.
Joy Carter Wilson for the Intercultural Platform.
.
.