That's Why

If I feel like smiling
to unfamiliar faces,
male or female
young or old
beautiful or not,

You will ask me
in your irritating way
with your irritating
voice and manners:

"Why'd you do that for?"

And I'd tell you:
"Maybe they need
that smiling face
as badly as I do."

.

(Memories of childhood's hour)

Miss teacher sitting on her desk
Reading some stupid story

She had long, panty-hosed legs
and high-heeled shoes

I pretended listening
while I was watching

- Unconsciously -

At the age of five,
I must have already known
that life was much more
about a woman's legs
than about some stupid story,
some chicken laying golden eggs

And then they wonder

.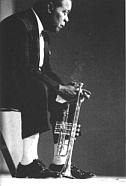 A Javanese Song
We're both peculiar
but in a sage way,
I guess
And we're both loners
And there's no real
magic between us,
But now lying in bed
I imagine you
here with me
as we're talking softly
& listening to Joe Dassin
singing l'été indien,
B.J. Thomas singing
Raindrops keep falling
on my head
& there's midnight jazz
And I imagine how
we're fading away peacefully
The midnight jazz
keeps on playing,
You're dozing off and outside
the wind's blowing gently
as I take a last look
at your pretty face
& caress it softly
As if to remind myself
that I can actually care
about someone else
Even if for one night
And before I close my eyes
to catch a good dream,
I hear Gainsbourg singing
in my music-hall:
Nous nous aimions
le temps d'une chanson
& try not to think
of how short a melody
can be,
but how long a beautiful
moment can last.
You sometimes remind me
of a girl I once knew
in Paris
in another era
in another life.
Nous nous aimions
le temps d'une chanson
"We loved each other
the time of a song."
A song for life.
.
There's this famous writer
& he's invited by an English
teacher to come talk about
his work
to a couple of students
As it is the case more often
the writer's presence is
not entirely that of a
white-collar worker
- he's rough, tough & drunk
After class,
the writer's sitting with
the other teachers in
the teacher's lounge
when all of a sudden
he gets up and shouts
"You can all bite me!"
Then he drops dead
of a heart attack.
When the medical crew
arrive together with a
couple of reporters
the latter asks:
"What were his famous
last words?" whereupon
the teachers all look
at each other and decide:
"He had none."
Hypocrisy:
the way of the world.
.
And then you say to me
at 4 in the morning,
while you're lying
next to me
and the alpha zone
has already captured
my thoughts
"It's a pity we're
not in love"
And maybe you
said it because
I once told you
I wasn't really
& that I live to give
my love to the Arts
That the Arts seem
the only love worth
dying for,
That not any human
relationship can be
worth that much (?)
And so maybe you
were right when
you said
"It's a pity we're
not in love"
But if we weren't
- not in the least bit -
there wouldn't be
this kind of poetry
when we're lying
in bed together
I wouldn't kiss you,
caress you, hold you
if there weren't
any form of Poetry
in
the poetry
of thy presence.
.
As it is Spring
I tend to forget
the cold & cloudy
days that lay
behind me
In an attempt
of getting Life
back
one should try
not to look
where one is
coming from
nor where one
is going to
As it is Spring
I would like
to believe that
I am possible
that you are
possible
and that every
possibility
is ours
As it is Spring
Now
And as it could
be
Forever.
.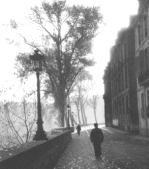 PARadIS
I want to live in Paris
like those from the 'Lost Generation'
Heming - I think that's my way
no money, just enjoying every day
I want to live in Paris
at times there were 'Magnetic Fields'
which could - to me - have given
living for the Art & the Art of living
I want to live in Paris
like in a movie of Claude Zidi
Belmondo, le beau monde
spending my holidays in the Midi
But why am I always dreaming
of what I should forget
I want to live in Paris
like those from the 'nouvelle vague'
the new wave & Brigitte Bardot
wonderful woman, dinner at the resto
I want to live in Paris
at times of jazz, no concert I would pass
Vian, Evans, Monk, so many more
at the 'Blue Note' or behind another door
I want to live in Paris
wanna see Gérard Philipe au cinéma
Fanfan la Tulipe, le tout Dada
Those who remind me of my grand-papa
But why am I always dreaming
of what I should forget
I want to live in Paris
'A bout de souffle', being 'Breathless'
struck by the intelligence of Mylne
I know her better than she'd ever guess
I want to live in Paris
au Paradis, c'est l'enfer, I don't care
a pity I lost her to an American
a pity she has lost a bit of her flair
Now I want to live in Paris
hang out with Dalcan, Murat, Daho
pay my respects to Chopin, Apollinaire
and so many others I've met at the bistro
And I'll always keep on dreaming
as long as my shining sun will set.
.
Lights go out
Cities fall asleep
Cars drive from
nowhere to nowhere
From the city up to the suburb
From the suburb up to the city
Into the garage
The driver gets out,
walks into the house
Watches his wife who's no longer
the girl he fell in love with.
Watches his kids who take more
after the postman than after him.
He goes up, takes a whisky
to wash away his insides
A hot bath will wash away
the outside, he hopes
At the table afterwards
there's a lot of noise
the wife nagging
the kids arguing
He excuses himself
Gets from the table
Remembers he's got
a gun somewhere
"Only 5 bullets
will do," he decides
Then he thinks
about the mess
and the police
and court
and prison
So he lets
the thought
slip... again
He gets back to the table,
finishes his dinner,
says he's tired
& turns to bed.
"I have to get out
of this life,"
he talks himself to sleep
(as he's been doing
for the last 7 years)
"There's got to be
something beautiful
out there,"
he whispers
Meanwhile,
on the other side
of the world
a new day's just
begun
and nightfall
& sleep
& salvation
seem yet so far
away.
Yet so close
for the man
who steps
in his car
and rides
off in the morning,
from nowhere
to nowhere,
whispering
"There's got to be
something beautiful
out there."
He's alone,
got no wife
no children
only a gun
no money
and his fate.