Background Music

sharing breakfast
with my son
in the grease-spot
I rock my feet
to the sounds
of a 30-year old
top ten;
Dylan, the Beatles,
Elvis, the Rolling Stones,
"Tell Laura I Love Her."
My son eats his beans
tucks into his toast
smiles at his dad
knowing he's happy
if he's happy.
We drink up
rush away
to catch a train
leaving the 60s
a memory
still ringing
in our ears.

.

He jumps and listens
then he doesn't
though he jumps
down
falling slowly
until the insides of his ears
burn

hot tea
without milk
tastes good
no need
for sweeteners after sex

in the cold night outside
a cat is heard to scream
as grief-riders
race
trying vainly
to escape
from the flying pigs

in the morning
all will be accounted for

.

Putting the Horror Movie in Context

tensions of the night
preventing sleep
we go downstairs
disturb the dog
share tea and cake
with the "Vampire of Venice"
gape as his victim
throws herself from a pinnacle
then wakes up
not with broken back
but naked in his chamber
blood dribbling from mouth

as the television breaks
to a commercial
for washing-up liquid
we laugh - return to bed
equipped to deal
with our own demons

.

Earth, the bird, the vine and advance notification of smoke blown
horizontally from rolling whirlpools.
Then he was quiet, cramped, then whoosh, beneath one -
where it departed into each other -
a girl with white on their shattering windshields, sending heads, gripping
two, three, barren,
Undeterred by a department of vegetation, side-stepping the suicides,
Opening his fishy-smelling sealskin mitts, hobbling to the man on black
slush:
Lucky Pierre. He is drawn into the echo of transgressions;
The doors were by his hands seized on his open grave!
But this wild terrain cleft violently to an end of pale expanse for
muffins, what worked him.
He screams with tenebrous absences behind the blood,
The world; the eye that can see the dying city streets.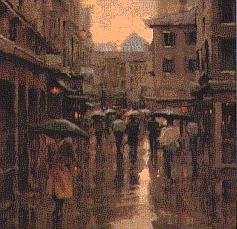 .

October Night

the thunder-storm reaches at last,
after hours of stillness
and seeing distant sheets
of lightning lighting up the streets

by three in the morning
a quarter-moon and sundry stars
stare from a silent sky
pierced only by a whippet's cry

too hot to sleep,
we quietly drink tea;
dip our bourbon creams
to soften shattered dreams

dawn comes with the magpie's song,
the clink of milk bottles
and the postman's knock
delivering an awakening shock

.

The fox comes nightly to her garden;

Soft-nosed neighbours would not comprehend,

They say she should leave her hedge untrimmed:

She nods but knows she has to feed him.