Digital Gallery
| | |
| --- | --- |
| Four Paintings - Kresimira Gojanovic | |
---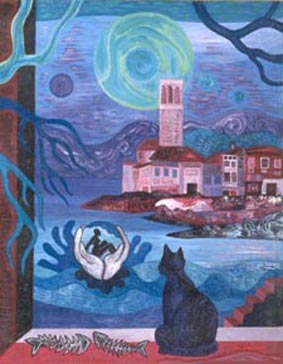 ''Misticna veduta - Ponoc'',
akril na platnu, 90 X 70 cm, 2001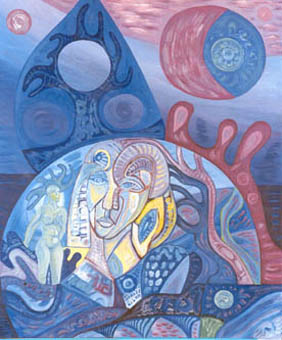 ''Radjanje plave planete'',
akril na platnu, 60 x 70 cm, 2001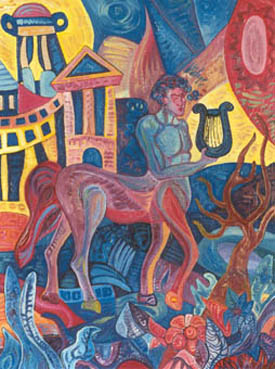 ''Vrijeme kentaura'',
akril na platnu, 90 x 70 cm, 2000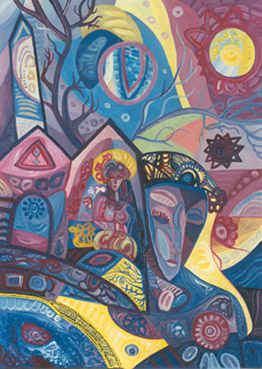 ''Gea - planetarna boginja'',
akril na platnu, 70 x 50 cm, 2001
Kresimira Gojanovic was born in 1970 in Osijek, Croatia. Kresimira graduated from the Academy of Arts in 1993. She is a member of Croatian Association of Freelance Artists, Croatian Association of Visual Artists and LIKUM.
From 1993 she has had 30 independent exhibitions of her paintings across Croatia and Slovenia. Her paintings are divided into several thematic cycles: "Waking up of the Planet", "Resurrection of Prometheus", "Birth of Venus", "Cosmic Flowers", "Witch Dance", "Mystic Images", "Power of Archetypes", and "Goddesses and Priestesses as new Female Icons". She also participated in 30 exhibitions with other artists and in dozens of painting colonies and meetings in Croatia and abroad.
Except for painting, Kresimira is a poet, critic, cartoonist and feminist performer. She is actively involved in activities of numerous non-governmental organizations in Croatia and Slovenia and hosts creative workshops for women named: " From Aphrodite towards Persephone - female creativity as a meeting with a dark sister ", and " Liberation of Female Creativity ". Kresimira Gojanovic lives and works in Zagreb.
Look at her website: http://kresimira.20m.com/
Notice © 2005 IP and the artists
---
Page up
---
[Intercultural Platform] [Introduction] [Literature] [Gallery] [E-mail]