---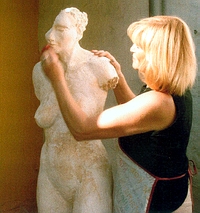 Rietje Geurts makes sculptures for 10 years now, inspired by the natural forms of humans and animals. She wants to express the strength, grace and elegance of the anatomy.
A major theme consists of humans (mostly women), bonded in vulnerable, but indominatable groups. Her sculptures exude refinement, but also a powerful sense of freedom.
She also makes ceramics.
She teaches the visual arts at Kreato (Thorn). Her engagement with the Bärwaldt Gallery in Maastricht gets her in contact with prominent art lovers and her work is gaining ever greater recognition.

She has exhibited her work with the well known painter Corneille in Lanaken (Belgium) and has designed the bronze medallion for the honorary citizenship of the city Maastricht.