Digital Gallery
| | |
| --- | --- |
| Three Paintings - Anke ter Brugge | |
---
| | |
| --- | --- |
| Bloesem | Rhenen vanaf de Rijn (detail) |
.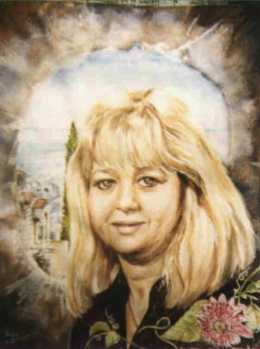 Astrid Dicker
Anke ter Brugge lives The Netherlands.
She is introduced at her site (in Dutch): "Anke ter Brugge werd in 1950 geboren in Hellendoorn. In 1992 kwam ze bij kunstenares Astrid Dicken terecht. Daar kreeg ze een gedegen technische ondergrond mee voor het tekenen en schilderen van portretten, landschappen en stillevens. Zelf ziet en schildert ze het leven op een mystieke manier. Haar materialen en technieken kiest ze op een weloverwogen wijze. Zowel haar krijttechnieken en het schilderen met aquarel en olieverf gaan haar goed af. Ook inkttechnieken beheerst ze op voorbeeldige wijze."
You can find more examples of her work at her own site.
Notice © 2000-2005 IP and the artist
---
---
[Intercultural Platform] [Introduction] [Literature] [Gallery] [E-mail]