Digital Gallery
| | |
| --- | --- |
| Eleven Paintings & Objects - Itamar Cohn | |
---
| | |
| --- | --- |
| "Broken Zionist Heart" - one of eight examples of works with Jewish subjects, which I made for Gallery Colors of Jerusalem, in Jerusalem. The Picture Describes the Jewish division, the broken Zionist heart, made not long before the Rabin assassination. | Wall painting next to the Avni Institute in Jaffo, 1998. |
.
Sample of my work at an exibition at the Avni Institute, 1998.

Family Re-union
At the moment this work is being exhibited at ELAH.
.
Strings to a Child's Grave.

Mickey M...ars
At the moment this work is being exhibited at ELAH.
.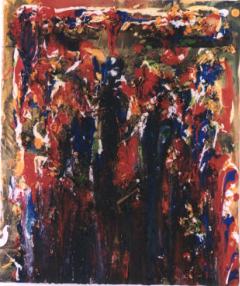 Crucification
.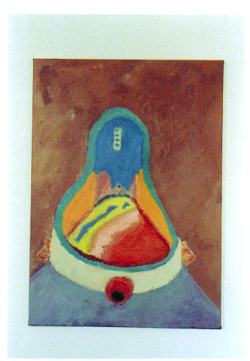 Piss-pot, oilpainting, 1999, 50x70 cm
Recently, I began taking ready-made's, which have become such an integral part of Post-Modernism, and tried to find in these mostly cold and 'banal' objects, the romantic-intimate and human aspects, and transform them by means of artistic expression into more fulfilling objects (of art). The two traffic signs in the exhibition are the end-product of a similar process of taking ready-made's and bringing them back into the realm of "high art".
.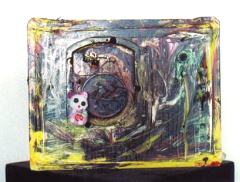 I Love You
Puppet connected to gramophone-player making endless turns up and down. In its heart are written the words "I love you".
.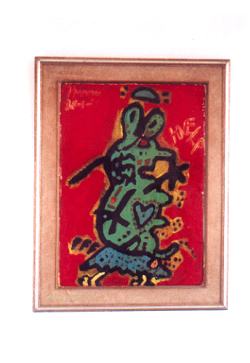 (Escaping) Multiple Identity
.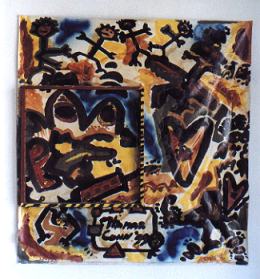 Framed Passion, mixed media, 1.00 x 1.00m
.
"Itamar Cohn was born in 1973 in Amsterdam (Holland). He moved on from there with his family to Amersfoort, which is in the middle of the country where he attended school. My mother had her own modern art gallery in our house for five years.
At the age of 17 I finished school and continued studying at the hotel school in Rotterdam, which wasn't a great success. I held some functions as a salesman which I think is together with my art my main talent. I was in Holland already active as an artist, and on two occasions I lived together with a group of artists in Anti-Squat buildings in the Hague.
After I made Aliya (immigration to Israel), in 1994, I studied Hebrew in the absorption center in Kfar Saba, Israel. After this in 1995 I had to go to the army and served for two years in the airforce. This wasn't a very inspiring time. I got our of the army two months early in order to start my art studies at the Avni Institute in Jaffo.
Right now I am in the third year of my studies there, and am developing myself there as an artist, which you hopefully follow with your own eyes in my virtual art gallery."
.
Notice © 2000 IP and the artist
---
Page up
---
[Intercultural Platform] [Introduction] [Literature] [Gallery] [E-mail]