Important announcement
---
AS OF 14 SEPTEMBER 2005 WE HAVE CLOSED THE INTERCULTURAL PLATFORM
Dear visitors,
This platform will be closed for new contributions as of September 14, 2005. We will freeze the site, but the works of all the existing contributors will still be accessible.
It got more difficult for me to maintain the site due to the work load of my business. This site was my first venture on the internet and lies close to my heart.
But I have to move on. I want to thank all the wonderful writers and artists who have contributed to this intercultural project.
Keep on expressing yourself!
Thank you.
---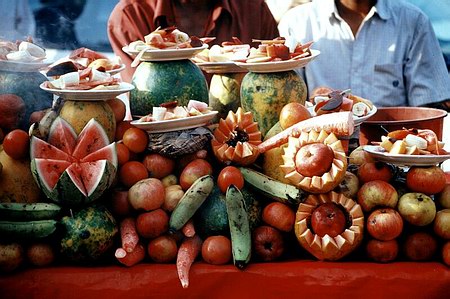 Fruits in the streets of Delhi - photograph by Lokesh Anjanappa (more...)
"I am honored to have my work included at your website. I greatly appreciate your site, its quality, and dedication to cultural openness. It is wonderful to have such a format available to artists from all over the world."
Analea Sanchez from Mexico
---
---
---

© Adriaan Boiten / Aideon Webdesign
[Intercultural Platform]
[Introduction]
[Literature]
[Gallery]
[E-mail]