Introduction and Instructions
---

The Zuidertoren (Southern Tower) in the Zandstraat in Amsterdam

This Intercultural Platform, dedicated to cultural diversity, is situated at the Zandstraat in Amsterdam. On this site writers and artists from all over the world publish or exhibit their work.

We offer easy navigation (see the buttons above every page):

With this button you browse through the site.

With this button you go back.

By all means, start right away to browse the site and discover that literature and art from different cultures can communicate diversity and understanding!
Important announcement
AS OF 14 SEPTEMBER 2005 WE HAVE CLOSED THE INTERCULTURAL PLATFORM
Dear visitors,
This platform will be closed for new contributions as of Septemper 14, 2005. We will freeze the site, but the works of all the existing contributors will still be accessible.
It got more difficult for me to maintain the site due to the work load of my business. This site was my first venture on the internet and lies close to my heart.
But I have to move on. I want to thank all the wonderful writers and artists who have contributed to this intercultural project.
Keep on expressing yourself!
Thank you.
For the copyright notice of the Intercultural Platform, please read this and press the back button of your browser to return here.
Poems and short stories are presented, sorted by:
and title (alphabetical).
In a digital gallery paintings, photographs and artefacts are shown.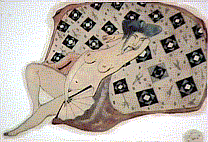 Alla Kiselova (Russia)
The work of a special artist is covered with an overview.
Featured artists with an expo are the photographer Theo IJzermans and the paintress Carla Baarspul.
On this page you will find a survey of the contributions, ordered by chronology.
On this page you will find a survey of the old contributions, that have been replaced by newer ones.
A writer or artist can at any time replace his or her contribution. By choice it can be stored in the archive of the Platform.
A contributor can end a publication or exhibition without any problem. This is a free Platform.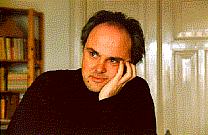 My name is Adriaan Boiten (b. 1958, Gemini) and I am a historian. Currently, I am self employed. I'm also working as a volunteer for several foundations aimed at stimulating sustainable development.
I believe in cultural diversity and communication and hope that this site will contribute to mutual understanding. This Intercultural Platform is part of a Global Vision Platform, aiming at improving lifestyles and sharing knowledge. Let's unite in a global conversation as part of a networked community!
---
Page up
---
[Intercultural Platform] [Literature] [Gallery] [Publish] [E-mail]